HP TRONIC to buy ETA from Benson Oak
October 6, 2011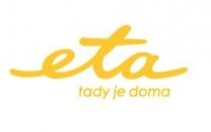 Coveted appliance brand to become part of leading Czech trading group
Zlín/Praha/Hlinsko, October 6 2011 – HP TRONIC Zlín spol s.r.o. ("HP TRONIC"), the largest Czech consumer electronics trading group, and the investment company Benson Oak Capital Cooperatief U.A. ("Benson Oak") announced today that they reached a definitive agreement to buy 100% stake in ETA a.s., a leading Czech manufacturer and marketer of small domestic appliances under the namesake brand. ETA, one of the most recognized Czech brands, will expand HP TRONIC's portfolio, which already includes names such as Hyundai, Goddess and Gallet.

"The acquisition of ETA is an important step in realizing our strategy in the small domestic appliance market. We have been distributing this unique brand for many years and integrating it in our own portfolio will allow us to better manage product development and respond to evolving consumer needs", said Daniel Večeřa, CEO of HP TRONIC, commenting on the transaction.
"We see interesting growth opportunities, primarily in combining the strong tradition of the ETA brand with the values and lifestyle of younger generation," added Petr Res, Sales and Marketing Director of HP TRONIC.
Investor Gabriel Eichler, founder of Benson Oak, explained the motivation for sale after four years of ownership: "At the time of our acquistion, ETA was part of an industrial group focused primarily on the automotive sector. We succeeded in making ETA a self-reliant market player again. Integrating ETA into a successful regional trading group is a logical next step, which will ensure long term development of this coveted brand."
Legal advisers to HP TRONIC were White & Case and Šimková & Partners, financial adviser was Centerboard.
Legal adviser to Benson Oak Capital was Řanda Havel Legal. Terms of the transaction were not disclosed.
Transaction closing is subject to review by the Czech anti-trust authority ("UOHS").
ETA a.s., founded 1943 in Hlinsko, designs, manufactures and markets small domestic appliances under namesake brand ETA. ETA is one of the best known Czech brands, with awareness exceeding 90 %. Its product portfolio includes vacuum cleaners, irons, various kitchen appliances and haircare products. During fiscal year ending March 31, 2011 ETA's sales were Kč 770 milion.
www.eta.cz
HP TRONIC, founded 1990 in Zlín, is a market leading Czech trade group in household appliances, consumer electronics, mobile phones, computer and photo/video equipment, distributing more than 60 global brands. On the Czech, Slovak, Polish and Hungarian market HP TRONIC is the exclusive re-seller of Hyundai brand and markets its own brands Goddess (www.goddess.cz), Gallet and GoGEN (www.gogen.cz). In addition to its wholesale and marketing business, HPTRONIC also owns and operates 35 retail stores, which are part of European retail network EURONICS. In 2010, HP TRONIC's consolidated sales exceeded Kč 7,1 billion.
www.hptronic.cz
Benson Oak Capital is buy-out and growth capital investment company investing in leading companies in the Czech Republic and Slovakia.
www.bensonoak.com

For additional information contact: Bohuslav Komín, HP TRONIC Zlín spol. s r.o. press liason, at +420 602 275 790 or kominb@hptronic.cz